Estimated reading time: 5 minutes
Return To: Employment Practices Liability Insurance (EPLI) – The Ultimate Guide
Just like your health, your business needs insurance.
One example is the coverage that protects your business from unlawful or unfounded claims made by employees that their rights in the company have been violated.
Now that you're clear on what employment practices liability insurance is and have decided that it's imperative that your business has it, let's take a look at exactly how much it is to cover employment practices liability, what the coverage is, and whether or not the cost of this policy outweighs potential lawsuits filed by employees.
No matter what your business's size may be (may it be a small or medium-sized business), most wouldn't be able to handle a substantial lawsuit without coming out unscathed.
There is no need to live in constant fear or worry of this happening, though. EPLI can help mitigate risks related to employee claims. 
| | | | |
| --- | --- | --- | --- |
| # Of Employee(s) | $100,000 Limit | $250,000 Limit | $1,000,000 Limit |
| 0-5 | $47.15 | $61.30 | $82.51 |
| 6-10 | $46.00 | $59.80 | $80.50 |
| 11-15 | $44.85 | $58.31 | $78.49 |
| 16-20 | $43.70 | $56.81 | $76.48 |
| 21-25 | $42.55 | $55.32 | $74.46 |
| 26-30 | $41.40 | $53.82 | $72.45 |
| 31-35 | $40.25 | $52.33 | $70.44 |
| 36-40 | $39.10 | $50.83 | $68.43 |
| 41-45 | $37.95 | $49.34 | $66.41 |
| 46-50 | $36.80 | $47.84 | $64.40 |
| 51-100 | $35.65 | $46.35 | $62.39 |
| 101-250 | $34.50 | $44.85 | $60.38 |
| 250+ | $33.35 | $43.36 | $58.36 |
EPLI Per Employee Cost Estimate
How Much Does EPLI cost?
This is often the first question that business owners have when considering getting EPLI as one of their many business insurance policies.
"We might not be able to afford it as we have a fairly small business."
"We don't think we need it; we only have a handful of employees, and we treat them like family."
It doesn't matter how careful you think you are or how much of a family you think you and your employees are; the bottom line is, anyone can be hit with an EPLI claim. And prevention has always been better than cure.
Take a look at this chart below. This is the number of family responsibility discrimination (such as pregnancy, breastfeeding, etc.) cases filed and won by employees: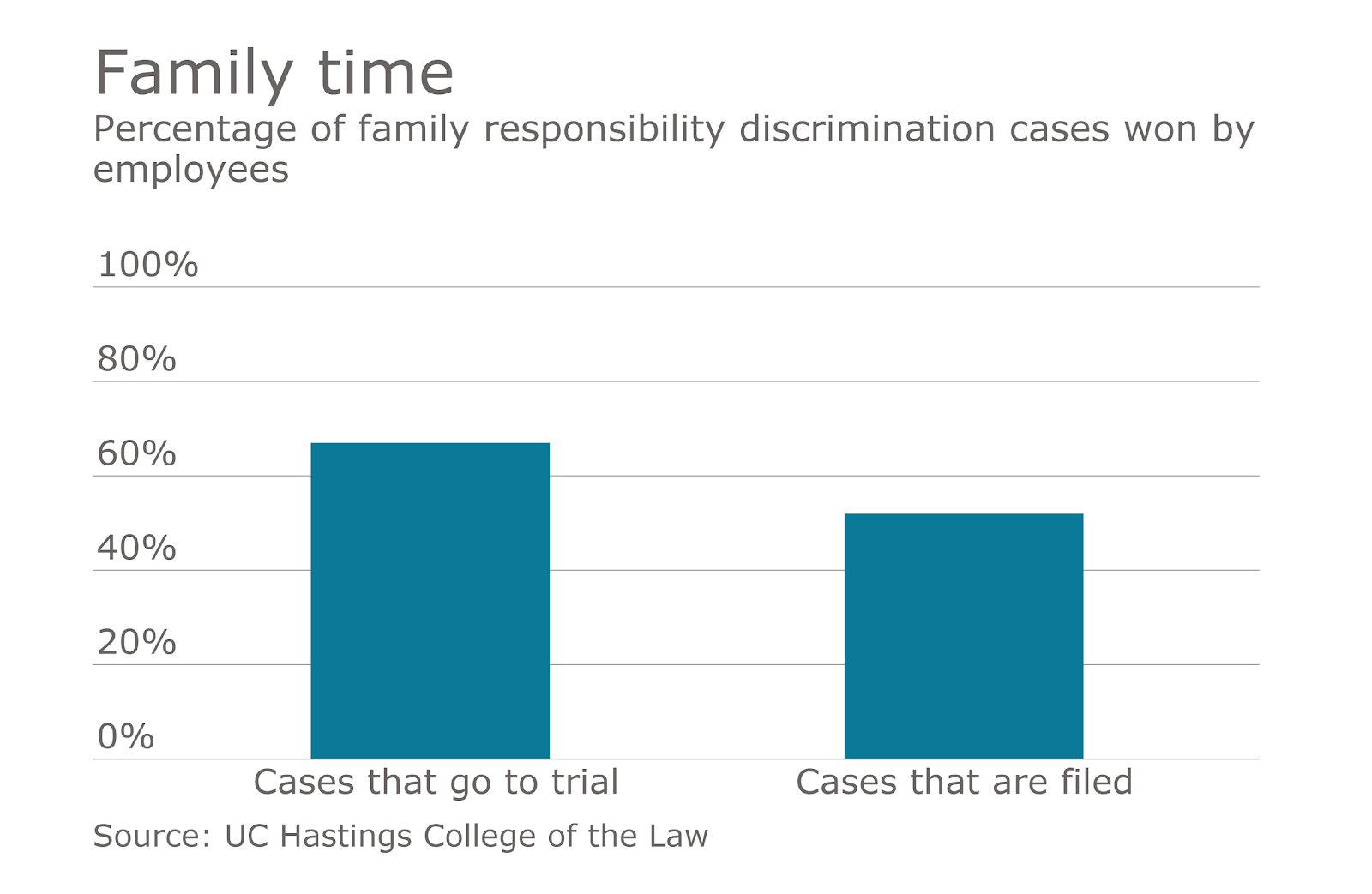 Pretty solid numbers, huh?
To give you a ballpark figure, for small businesses with about 5 to 20 employees in total, you can expect to pay an estimate of around $800–$3,000 for this insurance annually (cost varies depending on the type of business).
Looking at the numbers per se, that seems like a hefty sum for a small business to pay yearly, for litigation that might not even be served — but when compared to an average of $75,000 in settlements out of court for, let's say, an employee discrimination lawsuit, that undoubtedly looks like a reasonable amount.
In 2009, LA Times paid a whopping $15.4 million in settlement for an age-discrimination case, which burned the business's assets horribly.
What Determines The Insurance Premium For An EPLI Policy?
The premium calculation of any insurance policy depends on a variety of factors, including location. Here are a few considerations:
Number of Employees
This is the main factor of calculating for the policy as the more employees you have, the higher your chances of getting a claim, and the more you'll need to pay for coverage.
HR Procedures
Companies with a solid set of HR practices and procedures are less likely to face claims because they can prevent them at the onset. It's a good idea to secure the fundamentals of your HR protocols starting today to protect your business's back.
With virtually no procedures in place, the insurance company will be remiss if they had not charged you more.
What Type of Business You Operate
Businesses whose employees are in direct contact with customers such as retail and hospitality are often identified as having a higher risk for claims.
Claims History
If your company hasn't had any run-ins with claims over the past few years, you can expect to pay a smaller amount in premium.
Attrition Rates
Companies with a high attrition rate — meaning employees removed from the company for whatever reason, may it be termination, resignation, etc. — are higher at risk of employee claims and need to pay higher premiums.
Coverage Limits
The coverage for this policy typically ranges somewhere between $100,000 to $1,000,000. It would be wise for businesses with a higher revenue to veer towards securing a higher coverage to protect the assets as legal settlements are generally expensive and would quickly surpass the $100,000 limit.
Deductibles
The deductible has its own pros and cons. This is the agreed-upon amount that the business pays at the onset of the employee lawsuit before the insurance starts paying.
Suppose the business faced a (God forbid) employee litigation and had decided to go with a $20,000 deductible amount in its policy.
This amount has to be exhausted in defending the lawsuit first before the insurance kicks in and starts paying for anything.
The higher the deductible, the lower the premium the business has to pay. This will prove worthwhile in catastrophic litigations that could otherwise render the company bankrupt.
The business owner must understand, though, that for smaller claims that do not exceed the deductible, he or she will need to be fully responsible for covering all costs.
Is There Any Way To Lower The Cost Of EPLI?
There are two ways to lower costs of an Employment Practices Liability Insurance policy:
Establish human resource procedures
Pay the full cost upfront
There is no better way to lower this insurance policy's cost than to secure strong human resource procedures. Your protocols have to be transparent, with no room for loopholes to make it easier to disprove ill-founded lawsuits.
Discounts are also offered should you decide to pay for the insurance in full rather than monthly, which might look intimidating at first but would prove to be better for your business in the long run.
Where Do I Begin? I Want To Protect My Business.
There is no better time to secure this crucial insurance for your business than today, as more and more insurance companies are offering this policy with fairly competitive rates.
There has been a resurgence of 400% in litigation claims, and studies have shown that there is almost a 12% chance that your company will be hit by litigation filed by an employee.
Don't be part of that 12%. Get coverage today!